Your category 'B' (Car) driving licence only covers you to drive a vehicle up to 3,500kg & trailer up to 750kg. You can obtain a 'BE' learner permit if you have completed a Driver Theory Test in any licence category.
Gardai and RSA Inspectors are now actively pursuing vehicles towing trailers on the road and checking that the driver is in possession of the correct licence – without this correct licence (category BE), you are not insured and risk being prosecuted.
We supply a AWD (4×4) Ford Kuga Jeep and Box Trailer which is available for tuition and your driving test.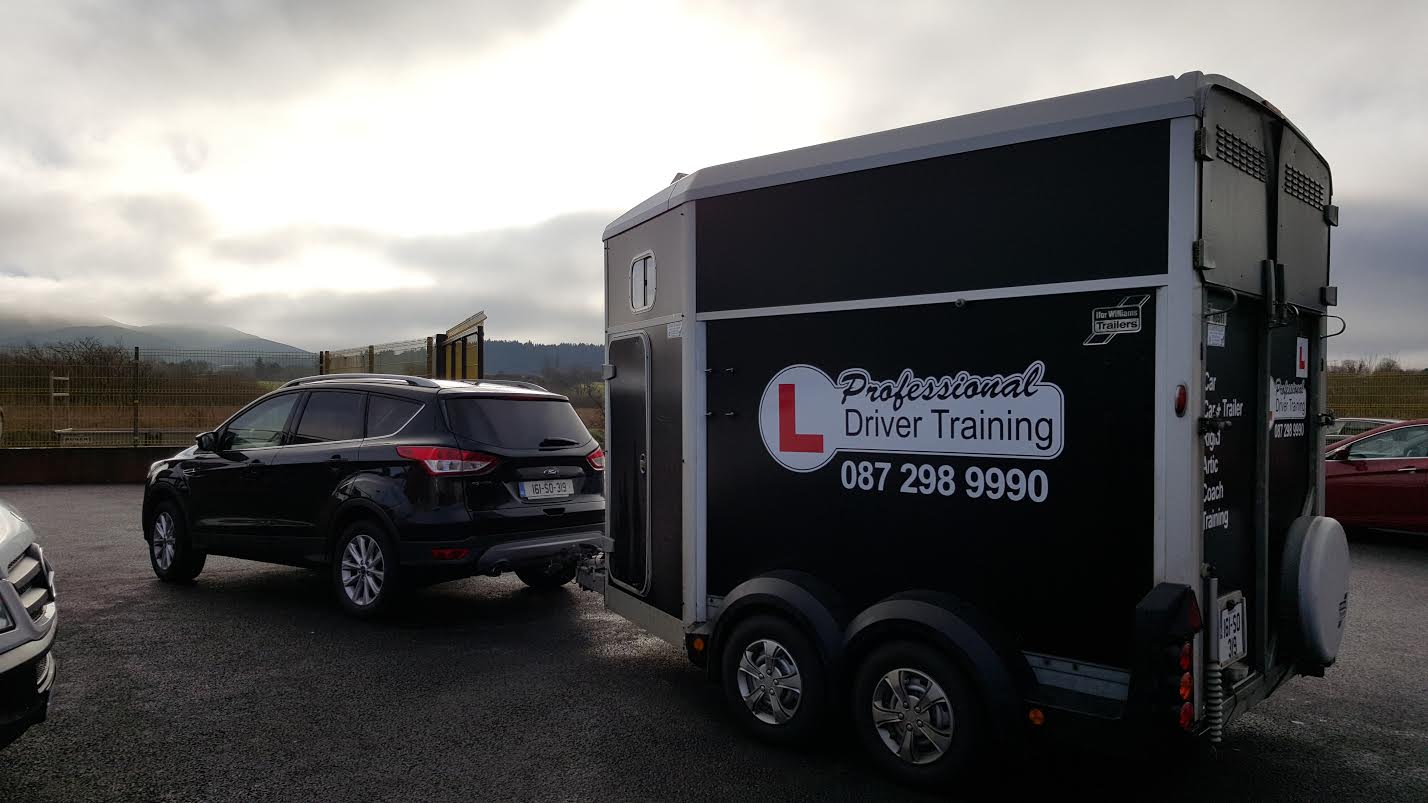 If you want to schedule times and dates or are interested in finding out more about learning to tow a trailer for the "BE" licence, call us on 0872989990.
Car and Trailer Licences The rules around the weight of a trailer that a car may draw will depend on a number of factors. A person holding a car licence, category B, can draw a small trailer provided that the trailer has a design gross vehicle weight (DGVW) no greater than 750 kg, and in some cases a heavier trailer, provided the car and trailer combined is not heavier than 3,500kg DGVW. DGVW means the designed gross weight which the trailer is designed by the manufacturer not to exceed, including the load on it. If you exceed this, you will be required to get a category BE driving licence. A driver with a car and trailer licence, category BE can draw a trailer where the MAM of the vehicle and trailer combination is greater than 3500kg but less than 7000kg. A car with a towing capacity of 2000kg can draw a trailer with a plated MAM of 3500kg PROVIDED the combination of the weight of the trailer and any load does not exceed the towing capacity of the car e.g. 2,000kg.
Vehicle Requirements for BE Test
A combination, made up of a Category B test vehicle which should be either of the below options:
 a length of at least 4.25 meters
 a 4-wheel drive vehicle, and a trailer with a design gross vehicle weight of at least 1,400kg but not exceeding 3,500 kg., capable of a speed of at least 100km/h, which does not fall within Category B.
The cargo compartment of the trailer must consist of a permanent, closed box body which is at least as wide and as high as the motor vehicle, and have a length of at least 2.4 meters.
The closed box body may also be slightly less wide than the motor vehicle, provided that the view to the rear is only possible by use of the external rear-view mirrors of the motor vehicle.
In every case, irrespective of the weight of the trailer unladen, the trailer must be presented with a load of 30 four inch (100 x 220 x 450mm) solid concrete building blocks, to ensure that it meets minimum real total mass requirements for the test (real total mass is the actual weight of the trailer including the necessary load), having due regard for safety, stability, manufacturer's guidelines and legal limits of the combination.
Trailer Licencing Entitlement
This video provides guidance on the required licence for each Trailer type.
Guidance from RSA on Trailer Roadworthiness
This video will show you key points about vehicle and trailer roadworthiness.
Guidance from RSA on Coupling a Trailer
This videos gives key tips on how to couple a trailer safely.
Guidance from RSA on Uncoupling a Trailer
This videos gives key tips on how to uncouple a trailer safely.
Guidance from RSA on Loading and Unloading a Trailer
This videos provides key tips on how to load and unload your trailer safely.
The Trailer Driving Test
This video provides further information on the Trailer driving test.