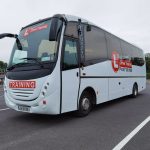 We have been placing drivers with Ireland's top corporate companies, and despite the present day economic climate, there is always work opportunities in the local area for coach driver.
Our training courses will ensure that you are well placed to pass your Category "D" Driving Test the first time you take it. We also specialise in both the Initial and the Periodic Drivers CPC Training Courses.Our Training Centre is conveniently located next to the RSA Driving Test Centre at Carraroe, Sligo.
Package One: Obtaining a licence:
For a driver who:
Currently possess a Car Licence only and wishes to obtain a category D (Coach) licence (answer to question below would be No)
Currently possess a D1 Licence (minibus) and wishes to obtain a category D licence (answer question below to determine which option to follow)
Q: Did you complete D.T.T. when obtaining D1 (Minibus licence)?
Yes
 
No
Step 1
CPC STEP 1 - BusTheory Test
 NA
 
 €72.00
Step 2
CPC STEP 2 - CPC Case Studies
NA
 
 €72.00
Step 3
Practical Driving Test
 € 120.00
 
 €120.00
Step 4
CPC Practical Walk Around Test
 NA
 
 €32.00
 
Total Exam Fees
 €120.00
 
 €296.00
-  Prices are valid as of August 2016.
** - Driver is required to undertake a full medical (approx. €50.00) and obtain their permit licence (€35.00). Driving tuition approx 10 hours @ €80.00 per hour = €800.00 (pre-paid option available for €750.00)
Package two: - Assessment:
Applicable to - full licence holder for relevant vehicle category

€100.00 – 90-minute assessment to include:
Reversing, regional and national road driving, position, reacting to hazards, observation, control of vehicle and progress
Sample of assessment sheet attached, which will be completed and returned to Transport Manager, showing full details of driving assessment and any recommendations required.
Package Three:  - Upskilling Course:
Applicable to - drivers who possess the relevant category licence but require additional training.
Coach- €300.00 (approx. 4 hours)
• Daily Vehicle Checks
• Passenger Care & Comfort
• Tachograph & Fault Finding
• Defensive Driving – (2 hours)
• On Road Assessment – (1 hour) - positioning, reacting to hazards, observation, control of vehicle and progress
Package Four: - CVRT: Driver Daily Walk-Around Checks Training
The Commercial Vehicle Roadworthiness Testing is currently making appointments to carry out inspections to assess the maintenance and repair of commercial vehicles, including trailers, used in your business.
Specific Documentation required for the inspection includes:
A list of all vehicles and trailers used in the business including vehicle registration numbers and copies of certificates of roadworthiness.
Records of inspection, maintenance and repair for each vehicle
Records of defect reports received from drivers and the evidence of follow up actions to address the defects
Scheduling plan for maintenance/safety checks of vehicles
Details of training provided to drivers for carrying out walk-around checks and for reporting of vehicle defects.
Qualifications of the personnel responsible for carrying out maintenance of vehicles
We are offering training in number 5 above - Driver Daily Walk-Around Checks.
View more details on CVRT here
CPC Driver Certificate of Professional Competence
This is one of a series of videos from the RSA on CPC Driver Certificate.